Inspiration
T
o weeks ago i attend the
JeanTrix fashion
show and i made my own tutu.The inspiration for the colors was a tee my sister had and i asked if i can have it, because i wanted to change it around, like cut the sleeves, make it a "V" neck instead. The colors of the tutu was inspired by the colors of the tee, but after making the tutu the tee did not go well with it, so then i had to think of another plan. Wear a black top, just add black and have the tutu stand out. I had the look in my head and when shopping i hoped i would find all the items i was picturing. And Voila...everything came out perfect, every item although different on their own still came together so well. I was pleased with the look and realized there is nothing else i want to be doing then styling and being in fashion.
This is the tee that inspired my tutu.
This is my tutu. The black top was really a body top, the one you put ur feet in. Like a bathing suit. I figured that was cool so that i don't have to worry about my top being tucked throughout the night.I topped it off with a half sweater. The leggings, i knew i wanted something in fish net, so this season you will see them everywhere, some have lace and awesome designs on them. I already knew that i wanted to wear those shoes, so adding some grey to the tutu was a most. And to tie in the grey from the shoes and tutu i had on a cuff bracelet with studs in grey, that matched my shoes and clutch. The necklace is one layered piece. I had everything on , but felt like something was still missing, i know hard to believe since this outfit has alot going on, but i felt it needed a belt. I had that gold bow belt for a while and haven't used it yet. I knew even though i did not have gold, the belt will still go with the outfit ,because the yellow on the tutu is a soft yellow so when light reflected from it, it looked gold. Oh, and underneath my tutu i had a black tutu skirt to cover up and not be so exposed! LOL Tulle is a see through material.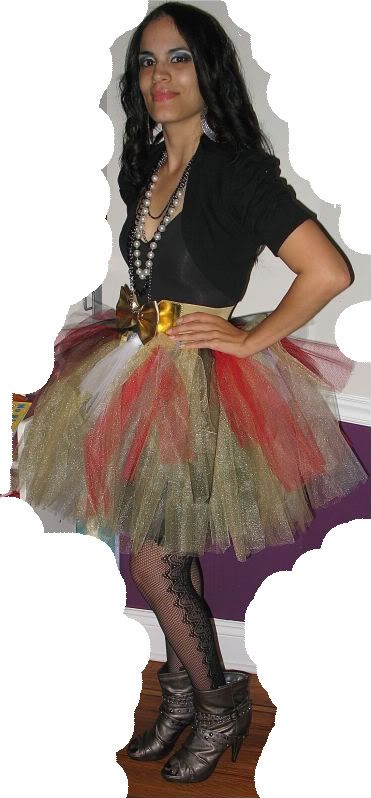 and of course we all need that "myspace" type of picture that you take in the bathroom to "see" how the outfit looks fr
om far away, LOL!
Tutu: Made by Me! oxoxo
Leggings :Joyce Lesile
Belt :Barefoot
Shoes: BareFoot
Earrings: Wet&Wild