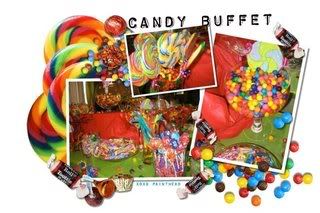 Candy buffets were everywhere these past two years.
Everywhere from weddings, birthdays to even baby showers.
Which i don't mind, because if you
know me,
you would know that i am the biggest Candy Whore there is.
The above and below photos are from my own Candy buffet...
Here are a few things tips from planning a candy buffet.
Use clear, glass jars, vases, jugs
whatever as long as it's clear.
This shows all the colors of the candies and makes
the buffet look prettier.
Get them in different shapes and sizes ,
they are cheaper then getting them from
a bridal store or interior design store.
I went with the giant cocktail glasses,
If you are having a color scheme,
get candies in those colors.
If your event is outside,
stay away from candies that will melt, duh,
like chocolate or yogurt covered candies.
Hard covered candies are the best,
because they come in many colors,
they are easy to scoop and less messy.
Expect to spend at least $150-200
dollars on candy or maybe more,
yes candy is pretty and may seem cheap,
but in the end it all adds up.
Each person will eat about 2lbs each.
You still want the buffet to
look full and to show there is enough candy,
so do go all out on the buffet,
i mean it is a buffet right?
like in
BJ's
.Wal-mart always has
YUMMY. Start looking early for the kinds
so you can make sure the store you are
going to will have them. Planning a
Candy Buffet should be fun, IT'S CANDY,
Everyone becomes five all over again
when it's time to get some candy.
The kind of candies i had,
were the ones i grew up with or just my fave.
Anything from
Wonka
i love,
Gummy Bears where a big hit...lol
I also had boxed candy, and wrapped ones,
that way you do not worry about people's
hands all over the candy.
like the skittles, gummies..etc..use a
scooper
.
just make it your own, and HAVE FUN!
candy buffet's pictures i found in the web.
Because these pics are everywhere
the real credit sources vanishes,
but if you see ur pics here and want credit,