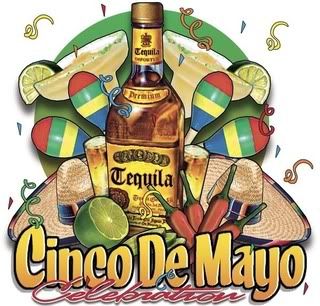 So what's the reason for Cinco de Mayo? Which is May 5th in spanish.
Well to know why Americans and Mexicans celebrate this special day, you have to know the history.
Cinco de Mayo is a date of great importance for the Mexican and Chicano communities. It was on May 5th in 1862 that 2,000 poorly trained Mexican peasants, under the command of General Ignacio Zaragoza, fiercely fought and won the Battle at Puebla against a regiment of 6,000 French soldiers under the command of Napoleon III.
Today on the fifth of May, Cinco de Mayo is celebrated by native Mexican (and American) people everywhere. In Mexico, several towns elaborately reenact the Battle of Puebla in a day-long dramatization that includes acting and speeches. In America, Cinco de Mayo is an opportunity to celebrate Chicano culture in general, and is celebrated with huge fairs that include Mexican singing, dancing, feasting, costumes, sports activities, fireworks, and entertainment. Mariachi bands play while dancers perform native Mexican dances such as the Mexican Hat Dance and the Raspa. Speeches and parades encompass a large part of the celebration too. These events are one way in which people celebrate the friendship of the United States and Mexico.
Now that you know some history, LET's PARTY! oxox and we will next travel to Mexico cyberly..lol